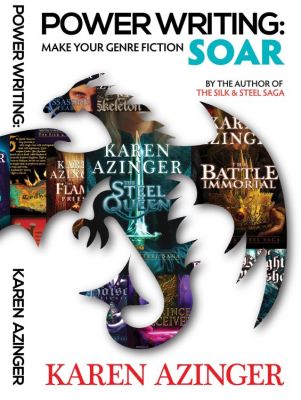 "Power Writing: Make Your Genre Fiction Soar" 

​
At the request of my fans I have published (Nov 2016) a book on t

he art of writing.  It is entitled "Power Writing: Make Your Genre Fiction Soar".  Based on the TidBit Thursday postings to my facebook page, this book gives useful writing tips for both novice and experienced writers as well as insights into the writing of "The Silk & Steel Saga".  Something for everyone!  Fans and writers all!
Click on the book cover for more information.
I've posted a compilation of the art cards of Erdhe.  You can see it by clicking on this link, or from the home page.
Silk & Steel Saga

All seven books of the Silk & Steel Saga, Including the final book - Book 7 -

The Battle Immortal, have been published and are available in ebook and in print.
Return to Books by Azinger
Maps of Erdhe

By popular request, there is a new webpage showing the Maps of Erdhe - which unfortunately do not appear in the ebooks.  The maps can be accessed from the home page or from this link.
Click on this link for some tips on writing fantasy.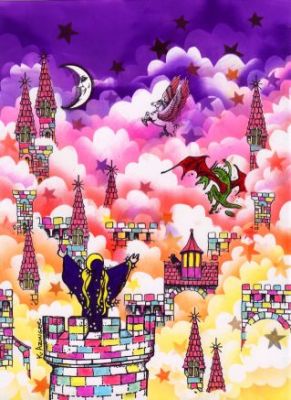 I am thrilled and honored to be featured as a fantasy artist in the Dec 2011 edition of Rubberstampmadness, the oldest and best rubber stamping magazine in the US. Some of my best stamped artwork is featured in this article, including the Cloud Castle. If you'd like to see more, you can order RSM at their website or find the magazine in craft stores across the US.

You can also find me on:

Facebook:  https://www.facebook.com/people/Karen-Azinger/100000411777461

Twitter:  https://twitter.com/karenazinger

Wattpad:    http://www.wattpad.com/user/KarenAzinger