Artwork of Erdhe
A note from the author: 


Since my early days of crayons and colored pencils, I've always loved art. Through the years, I've dabbled in many art forms, from acrylic painting, to fused glass, to ceramics, to underwater photography. Art has always been a beloved hobby, while science and logic became my career. When I finished writing The Steel Queen, I wanted to find a way to express the kingdoms of Erdhe using my artwork. One of my hobbies is rubber stamping. Inspired by Artist Trading Cards (ATC) published in RubberStampMaddness (the oldest and best rubber stamping magazine in the US), I decided to stamp a series of Art Cards of Erdhe to represent the characters and settings in my books. I had so much fun with this project that I stamped a deck of 90 cards. These cards are featured on my author website while others are posted on my Facebook page (The Steel Queen). These cards are a way for my readers to see the kingdoms of Erdhe through the author's own artwork. I hope you enjoy the Art Cards of Erdhe.

RubberStampMadness (www.rsmadness.com)
Here is a postcard with all the Art Cards of Erdhe...so far.  If you like a particular one and want to see it in greater detail in this website, let me know on my facebook page.  Refer to it with a grid number starting with the lower left.  For example, the Castlegard card below would have grid number  6 up 6 over.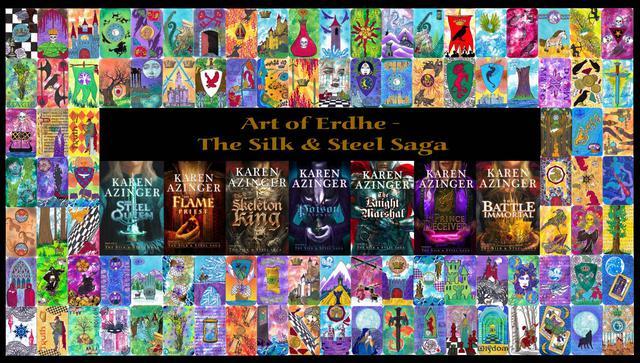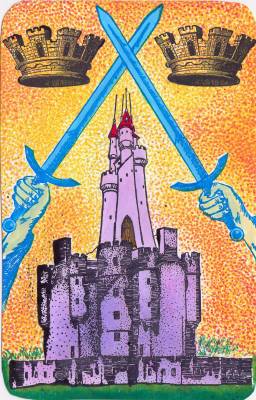 Castlegard- An ancient castle, said to be invincible. The inner castle was built of mage-stone, raised by the power of ancient mages, while the outer castle was built by the sweat of ordinary stonemasons. The eight-sided concentric castle is the stronghold of the Octagon Knights.

Stamps used in this card include: Excaliber- Stampa Barbara: Castle Crown- 100 Proof Press: Point Tool Dots- Meer Image: Cloud Castle- Visual Image Printery: Wild Grass- Posh: Castle- unknown.